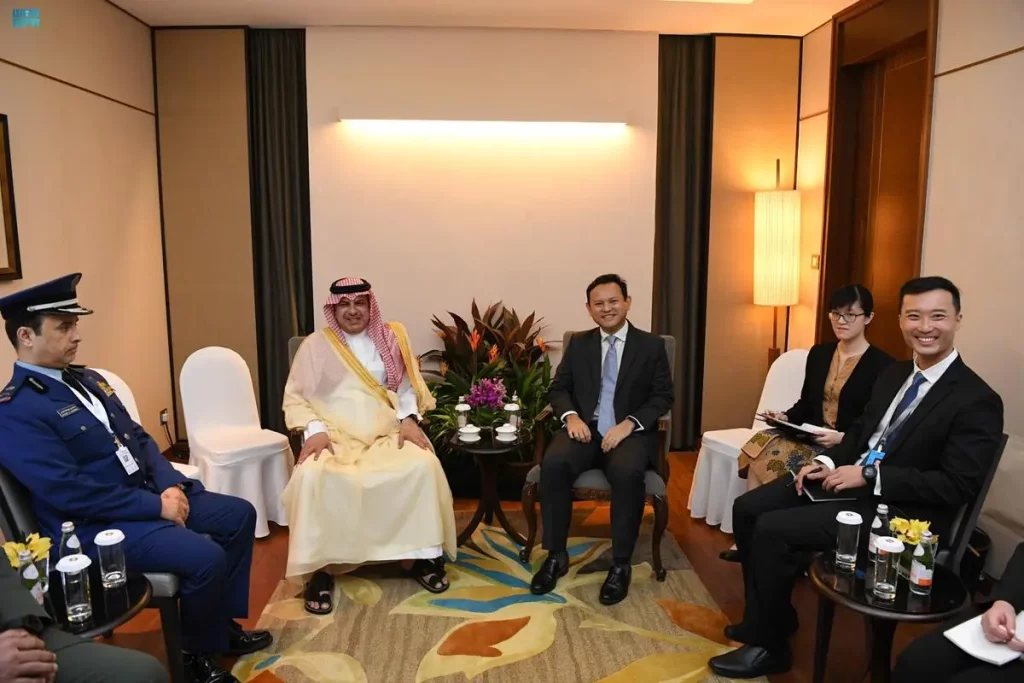 Saudi Arabia's Assistant Minister of Defense, Eng. Talal bin Abdullah Al-Otaibi, actively engages in bilateral meetings and discussions at the 20th Shangri-La Dialogue, fostering international cooperation and strengthening defense relations with various countries.
Saudi Arabia's Assistant Minister of Defense, Eng. Talal bin Abdullah Al-Otaibi, recently made significant contributions to the 20th Shangri-La Dialogue in the Republic of Singapore. This high-level gathering brought together defense ministers, senior military leaders, and defense policymakers from around the world to address pressing security and defense challenges and explore potential solutions for global stability and peace.
During the event, Eng. Al-Otaibi had the honor of attending a banquet hosted by the President of the Republic of Singapore, Halimah Yacob, at the Presidential Palace. This distinguished gathering celebrated the heads of delegations from the participating countries, further highlighting the significance of the Shangri-La Dialogue as a platform for fostering international cooperation.
Eng. Al-Otaibi also engaged in bilateral meetings with several influential figures. One noteworthy meeting was with Qatari Deputy Prime Minister and Minister of State for Defense Affairs, Dr. Khalid bin Mohamed Al-Attiyah. Their discussions focused on enhancing bilateral relations, particularly in the defense and military domains. Such meetings highlight the commitment of Saudi Arabia to strengthening its partnerships and fostering cooperation with regional allies.
Another significant meeting took place between Eng. Al-Otaibi and Senior Minister of State at the Ministry of Defence of Singapore, Zaqy Mohamad. The two officials reviewed defense and military cooperation relations while addressing various issues of common concern. This exchange of perspectives demonstrates the importance of collaboration and information sharing in addressing shared security challenges.
Eng. Al-Otaibi's dedication to promoting regional cooperation was further evident in his meeting with Malaysia's Defence Minister, Mohamad Hasan. The two leaders discussed matters of mutual interest and explored avenues to enhance bilateral relations. These discussions signify the commitment of both countries to strengthen ties and work together to address regional security issues.
Moreover, Eng. Al-Otaibi met with Pakistani Chairman of the Joint Chiefs of Staff Committee (CJCSC), General Sahir Shamshad, reaffirming the solid bilateral relations between Saudi Arabia and Pakistan. In addition to discussing military and defense cooperation, they emphasized the importance of collaboration in addressing shared challenges, underscoring the enduring partnership between the two nations.
Eng. Al-Otaibi also engaged with representatives from Germany, Bahrain, and the International Institute for Strategic Studies (IISS) during the sidelines of the Shangri-La Dialogue. These discussions centered on developing strategic partnerships in defense and military fields, enhancing bilateral relations, and establishing effective regional and international collaborations. Such dialogues contribute to the broader goal of fostering stability and security within the global community.
As the leader of the Saudi Ministry of Defense delegation, Eng. Al-Otaibi played a pivotal role in the 20th Shangri-La Dialogue. This influential gathering brought together defense ministers, senior government officials, military analysts, and decision-makers, serving as a vital platform for diplomacy, strategic discussions, and collaboration. Saudi Arabia's active participation in this event demonstrates its commitment to addressing global security challenges and building strong international alliances to achieve lasting peace.