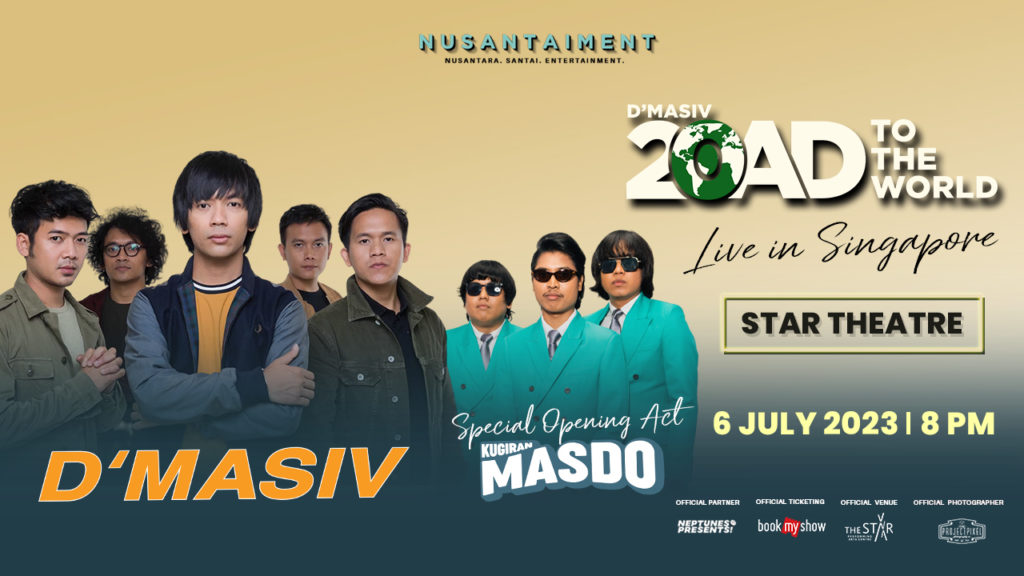 Experience the electrifying union of Indonesian band D'Masiv's 20th anniversary celebration and Malaysian band Masdo's indie rock at a not-to-be-missed concert on July 6, 2023, featuring exclusive meet and greet opportunities.
Get ready for an epic night of music as two indie bands from two different countries come together for one unforgettable show! Indonesian band D'Masiv is celebrating their 20th anniversary and they're bringing their signature sound and energetic performance to the stage. But before they take the spotlight, Malaysian band Masdo will kick off the night with their own brand of indie rock.
D'Masiv, with their impressive discography and loyal fanbase, promises to make their 20th anniversary show a celebration of their success and a showcase of their talents. Their music, from early hits like "Cinta Ini Membunuhku" and "Merindukanmu" to their latest release "Kau Yang Tak Pernah Tahu," has been a constant presence in the Indonesian music scene. Their unique blend of rock, pop, and heartfelt lyrics has resonated with audiences throughout the years.
Masdo, on the other hand, has been steadily rising in popularity in Malaysia and beyond. Their opening act is sure to get the crowd pumped up and ready for a night of great music. With their distinct fusion of indie rock, folk, and pop, Masdo has garnered a dedicated following and critical acclaim. Their infectious melodies and relatable lyrics have struck a chord with music lovers, making them an exciting addition to the lineup.
The concert will take place on Thursday, 6 July 2023, at The Star Theatre. The event kicks off at 8:00 pm, so make sure to mark your calendars and secure your tickets early. There are various ticket categories available, ranging from CAT 1 to CAT 4, with prices starting at $58. For fans who want a truly special experience, there are limited "Admission + Meet & Greet" tickets available for Cat 1 seats. These exclusive tickets include a meet and greet session, an exclusive signed poster, a lanyard, and a tote bag.
The meet and greet will take place before the show from 6:00 pm to 7:00 pm, providing fans with a chance to meet their favorite band members up close. However, these meet and greet tickets are limited to 100, so act fast to secure your spot. Keep in mind that ticket purchases are limited to six tickets per transaction, and there is a $4 booking fee per ticket.
Don't miss out on this incredible opportunity to witness the magic of two amazing indie bands from different countries coming together for one unforgettable show. Get your tickets now at https://sg.bookmyshow.com/e/DMASIV20 and prepare for a night filled with electrifying performances, infectious melodies, and memories that will last a lifetime.