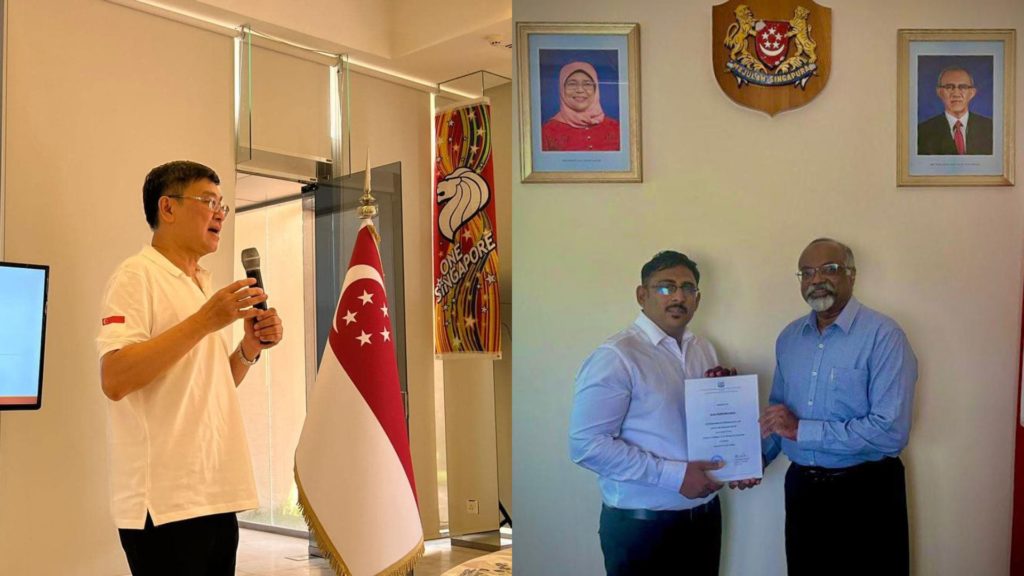 Singapore Embassy in Riyadh and Consulate-General in Jeddah celebrate 2023 Public Service Week, honoring dedicated staff and emphasizing adaptability and transformation in their service.
The Singapore Embassy in Riyadh was abuzz with excitement as diplomats and staff came together to celebrate the 2023 Public Service Week. Dressed in their new SG Embassy polo T-shirts, the team gathered to reflect on the themes "Enriching Your Experience, Transforming Our Service." The event featured inspiring speeches from esteemed guests, including Minister-in-charge of the Public Service, Chan Chun Sing, and Head of Civil Service, Leo Yip.
In his opening remarks, Ambassador Wong emphasized the importance of embracing change and staying future-ready in both work and life. He encouraged the team to remain adaptable to new circumstances and situations, emphasizing that change is the only constant in their line of duty.
The event was not only a celebration of the Public Service Week but also an opportunity to honor the Embassy's dedicated staff members. Two outstanding individuals, First Secretary (Admin & Consular) Michael Lim and Attaché (Admin & Technical) Muhammad Isa Bin Maritz, were recognized for their long and loyal service. Michael Lim was awarded the prestigious 10-Years Long Service Award (LSA), while Muhammad Isa Bin Maritz received the 5-Years LSA. The entire Embassy extended their heartfelt congratulations to the deserving recipients for their unwavering commitment to serving the nation.
Meanwhile, the spirit of celebration extended beyond Riyadh as the Singapore Consulate-General in Jeddah also joined in commemorating Public Service Week. Consul-General Chandra Kumar took the opportunity to recognize General Office Assistant cum Chauffeur, Suhail Parappuram, for his 10 years of dedicated service. Suhail was presented with the Long Service Award and a personalized gift, symbolizing the Consulate-General's deep appreciation for his hard work and loyalty to #TeamSG in Jeddah.
The celebrations at both the Singapore Embassy in Riyadh and the Consulate-General in Jeddah not only highlighted the commitment and dedication of the staff but also served as a reminder of the Singaporean government's commitment to providing exceptional service to its citizens abroad. With a focus on enriching experiences and transforming their service, the Singaporean diplomatic missions continue to uphold the nation's reputation for excellence in public service.
Sourced from Singapore Embassy in Riyadh and Singapore Consulate-General in Jeddah