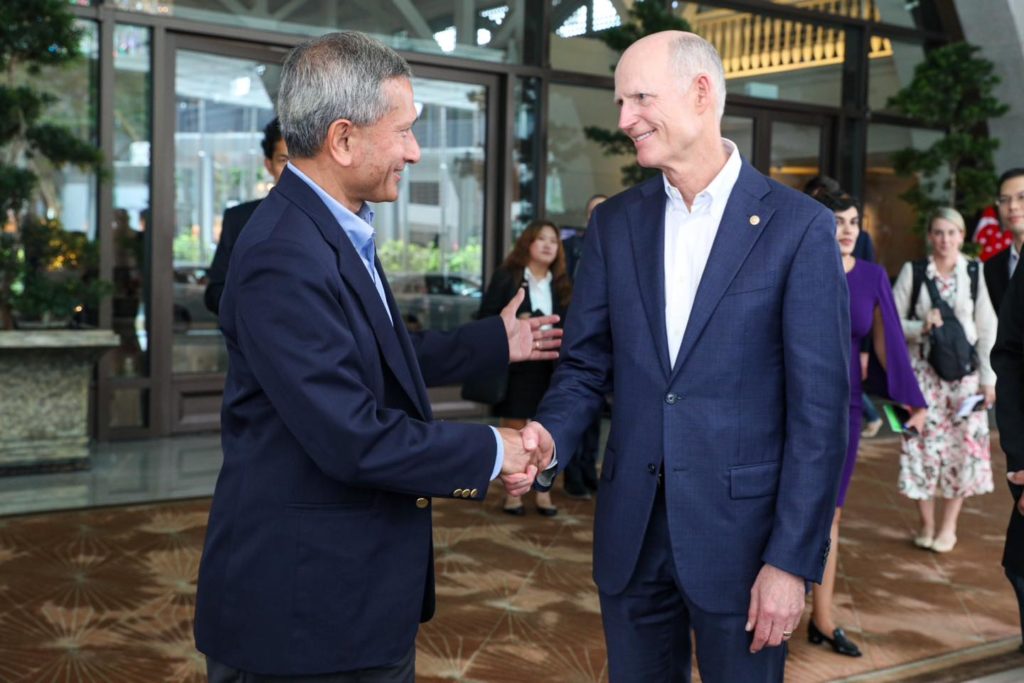 United States Senator Rick Scott's visit to Singapore strengthens diplomatic, economic, and military relations through meetings with government officials, military leaders, and business representatives.
United States Senator Rick Scott of Florida embarked on a diplomatic journey to Singapore on August 7, where he held discussions with key figures from the Singaporean government and business sector. The visit aimed to strengthen ties between the two nations and promote bilateral cooperation in various domains.
During his stay, Senator Scott met with esteemed officials, including Minister for Foreign Affairs Vivian Balakrishnan, Minister for Trade and Industry Gan Kim Yong, and Minister for Defense Dr. Ng Eng Hen. The discussions encompassed a range of topics, from economic policies to defense strategies, reflecting the comprehensive nature of the bilateral relationship.
Minister Balakrishnan expressed his satisfaction with the visit and highlighted the exchange of ideas on economic planning and future-oriented policies. Over a convivial lunch, he shared Singapore's remarkable development trajectory and socio-economic policies with Senator Scott. Both sides underscored the significance of fostering sustainable growth and development through prudent planning.
In an effort to strengthen military ties, Senator Scott also paid a visit to the Commander of the Logistics Group Western Pacific, Task Force 73, a contingent of the U.S. Navy's 7th Fleet stationed in Singapore. This engagement included a comprehensive tour of facilities, during which Senator Scott was briefed on the critical role of mobile logistics and sustainment in supporting Distributed Maritime Operations (DMO) and Expeditionary Advanced Base Operations (EABO).
Furthermore, Senator Scott engaged with the business community through an assembly organized by The American Chamber of Commerce in Singapore. This interaction facilitated a valuable exchange of insights into the economic landscape and potential avenues for collaboration between the two nations.
Senator Scott's visit to Singapore underscored the importance of fostering international relations and cooperation on multiple fronts. It served as a testament to the ongoing efforts to deepen ties between the two nations in pursuit of shared objectives.