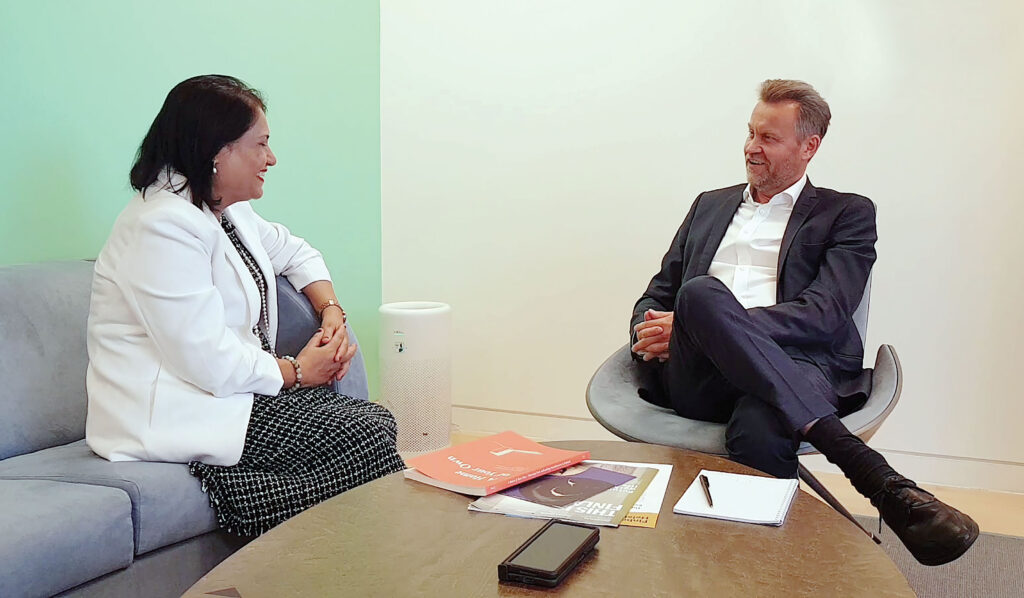 Celebrating the 50th anniversary of diplomatic relations between Singapore and Finland, the Finnish Ambassador shared his thoughts and impressions of Singapore, as his four years tenure comes to an end
AMBASSADOR Vänskä marveled at Singapore's captivating blend of cultures, people, and delectable cuisine. The unexpected lushness of the city-state, with its green parks and jungles seamlessly woven into the urban fabric, left a lasting impression. "It is really, really a 'garden' city," he enthused, highlighting Singapore's distinctive charm. Reflecting on what he would replicate in his home country, Ambassador Vänskä commended Singapore's dynamic and forward-thinking approach. He praised the city-state's penchant for systematic planning and its openness to adopting best practices from around the world. This drive to shape the future and benchmark against global standards stood out as a valuable lesson.
Turning our attention to Finland, Ambassador Vänskä shared the secret of the nation's remarkable consistency in topping global happiness charts. He attributed this achievement to the Finns' genuine appreciation for life's modest joys and a steadfast commitment to maintaining a robust work-life balance. "We don't live for work only," he underscored, emphasising the importance of harmony between professional and personal pursuits. This year marks the 50th anniversary of diplomatic relations between Singapore and Finland. Ambassador Vänskä highlighted a special commemorative event to mark the occasion.
The Singapore Botanic Gardens is part of the celebrations and was held on 28th July 2023. The Second Minister for Foreign Affairs, Dr. Maliki Osman and the Singapore ambassador to Finland, Professor Cheong Koon Hean participated in the event, symbolizing the enduring friendship between the nations. Two rare tree species of the Diospyros collection were planted, which added on to the Gardens' valuable collection of more than 70 species. A similar tree-planting ceremony took place at Kalasatama Park in Helsinki on 28th August 2023.
As his tenure in Singapore is over, Ambassador Vänskä revealed his upcoming assignment – a return to the headquarters of the Finnish foreign ministry in Helsinki. Following Finnish diplomatic practice, he highlighted the alternating two periods of service abroad and one period at home. Having amassed valuable experience during his time in Washington DC and Singapore, Ambassador Vänskä is prepared to contribute to the ministry's strategic efforts from his home country.