Prime Minister Narendra Modi dedicates 'Yashobhoomi', one of the world's largest MICE destinations, emphasizing world-class infrastructure for conferences and exhibitions.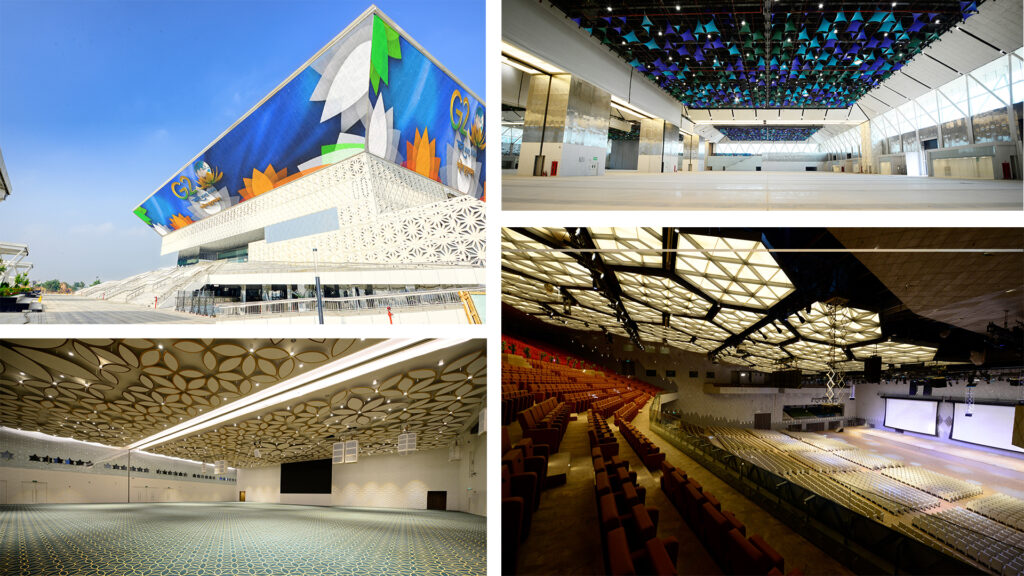 Prime Minister Shri Narendra Modi inaugurated 'Yashobhoomi', India's state-of-the-art Convention and Expo Centre in Dwarka, New Delhi on September 17, 2023. This architectural marvel, constructed at a cost of Rs. 5400 crore, sprawls over an impressive 8.9 lakh square meters, solidifying its status as one of the world's leading MICE destinations.
'Yashobhoomi' houses a magnificent Convention Center encompassing 15 versatile rooms, including a grand ballroom and a plenary hall accommodating up to 6,000 guests. The Center also boasts the nation's largest LED media facade, offering an immersive experience for attendees. Additionally, the Grand Ballroom, with its distinctive petal ceiling, can host up to 2,500 guests, complemented by an extended open area for 500 more. Further enhancing its versatility, 'Yashobhoomi' features 13 meeting rooms across eight floors, tailored to accommodate gatherings of various scales.
The Expo Centre at 'Yashobhoomi' stands as one of the world's largest, covering an expansive 1.07 lakh square meters. This capacious venue will serve as the canvas for exhibitions, trade fairs, and business events. Connected to the exhibition halls is a grand foyer characterized by a striking copper ceiling, allowing natural light to filter through skylights. The foyer also houses an array of support amenities, including media rooms, VVIP lounges, cloakrooms, a visitor information center, and ticketing services.
Inspired by Indian culture, 'Yashobhoomi' showcases an architectural design with elements like terrazzo floors adorned with Brass inlay, echoing rangoli patterns. The inclusion of suspended sound-absorbent metal cylinders and illuminated patterned walls adds to its aesthetic appeal. The center's commitment to sustainability is underscored by a state-of-the-art wastewater treatment system ensuring 100% reuse, leading to a Platinum certification from CII's Indian Green Building Council (IGBC).
Security is paramount at 'Yashobhoomi', with advanced provisions in place to ensure the safety of visitors. An underground parking facility, accommodating over 3,000 cars, is equipped with more than 100 electric charging points, reflecting a forward-looking approach to sustainability.
In addition, 'Yashobhoomi' will seamlessly integrate with the Delhi Airport Metro Express line through the inauguration of the new metro station 'Yashobhoomi Dwarka Sector 25'. This station will feature three subways, further enhancing accessibility to the Exhibition halls, convention center, and Central Arena.
Notably, Delhi Metro will boost the operational speed of Metro trains on the Airport Express Line from 90 to 120 km/hr, reducing travel time from 'New Delhi' to 'Yashobhoomi Dwarka Sector 25' to a mere 21 minutes. The inauguration marks a significant milestone in India's pursuit of world-class infrastructure for global conferences and exhibitions.