Housed amidst a backdrop of a lush mini-forest at Singapore's National University (NUS) campus, the Asia-Europe Foundation (ASEF) is mandated to build bridges between governments, civil societies and people of Asia and Europe as well as help find solutions to common international problems.  Nomita Dhar, IN Diplomacy's Editor-in-Chief, spoke with Ambassador and Executive Director, Karsten Warnecke, to know more
What are the origins and objectives of the Asia Europe Foundation (ASEF) and why is it located in Singapore? 
The idea of starting a multilateral platform between Europe and Asia was first mooted by Singapore's former Prime Minister Goh Chok Tong.  He suggested Singapore and France, as the Presidency of the European Council at the time, should initiate a platform that promoted ties and opportunities between the two continents and a political dialogue forum, the Asia-Europe Meeting (ASEM), and the Asia-Europe Foundation (ASEF) were born.  

ASEF is meant to compliment the political ASEM process. We bring Asians and Europeans together by organizing projects in culture, education, governance and human rights, sustainable development, public health, and economy.
Singapore gave us this space, it's a very convenient location with a high level of connectivity with the rest of Asia and Europe, so it's very easy for us to work and travel from here. Singapore has played a very supportive role without dominating the process or the organisation.
What is an Executive Director's role and how is ASEF funded?
The Executive Director is in-charge of the organization and the post alternates between Asia and Europe. Our Board of Governors has a total of 53 people representing 51 different nations (which includes all ASEAN members), the European Union and the ASEAN Secretariat.
Our motto, "Diversity Creates" is about bringing people together from such diverse backgrounds, which enables us to find new perspectives and come up with solutions to the problems that we are all facing. At ASEF we bring civil society together and we link it to the political process; so in ASEF we have the EU as a partner and we have the ASEAN Secretariat as a partner along with 51 other countries. We began 21 years ago with 26 partners from Asia and Europe, and as you can see it has doubled since then.
Once a country becomes a member of the intergovernmental Asia-Europe Meeting (ASEM), they automatically become members of the Asia-Europe Foundation (ASEF).  Ours is a non-profit organization, there is no fixed fee. It is up to each country to decide how much they will contribute as these are voluntary contributions. All members are treated equally.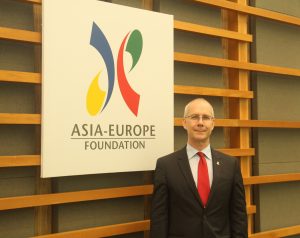 This year is Singapore's turn as the Chair of ASEAN. What is ASEF's view of ASEAN?
ASEAN is a regional organization like the European Union and they are the two most integrated organizations in the world. The EU, of course, has gone much further, it's been around longer and there's a much deeper integration. Having the experience in the EU and what it has done for us (Editor's note: Ambassador Karsten Warnecke is German), for the country, for the continent, we strongly support ASEAN in its work; and as individual countries, in general.
For Europe, and especially for the European Union, ASEAN is very important. It is considered as a strategic partner alongside countries like China, India, Japan, Korea, Australia.
We believe that regional stability can only be reached through close co-operation, connectivity that goes on to security and stability, which then leads to economic growth, from which we all prosper – the people in the region, and those who trade with the region and as you now the EU is a very strong trading partner with ASEAN. So, yes, we are very strong supporters of ASEAN and of regional integration in Southeast Asia.
What activities are being lined up for this year?
ASEF works under the umbrella of ASEM (Asia-Europe Meeting) which is not an international organization; it does not have a secretariat or HQ, it is however an important and unique political dialogue process. Every two years the heads of state and governments of 51 countries in Asia and Europe, plus the EU and the ASEAN Secretariat come together to meet. The major event this year is the ASEAM Summit, where the leaders will meet in October in Brussels to discuss issues of common concern to Asia and Europe. As ASEF's Executive Director, I am given a seat at the table as a Head of Delegation to bring civil society's voice into the political process.
Could you share with us some of the latest projects carried out in the region or in Singapore?The last big project we did in Singapore was the 6th ASEF Rectors Conference and Students Forum in partnership with the Singapore Management University. We invited rectors and university presidents from all over Asia and Europe to discuss matters of concern. Students met and discussed the same issues as the rectors and then we get them all to come up with and discuss ideas for recommendation. The best part is that we then take those recommendations to the ASEM Education Minister's Meeting. This worked out so well for both the Education Ministers and the participants that the next iteration will take place back-to-back with the ministerial meeting in Romania.

We work with civil society, higher education institutions, university associations and the students – bringing them all together. They have ideas and we pass these on to the Education Minister and say, this is what the people need, this is what the institutions want, not just on the national or regional level in Asia or Europe, which is what the Education Minister usually deal with, but on an Asia-Europe level. This is what is so unique and powerful about ASEF, we carry civil society voices into the political process.
How has your experience been working in Asia?
This is my third stint in Singapore. I was at the German Embassy in Singapore for five years, then I returned to the foreign ministry in Berlin where I was working in the Asia Department. In a rather remarkably lucky turn, I was reposted to Singapore as ASEF's European Deputy Executive Director.  I was then appointed as Ambassador by the German Federal President and nominated by the German government to be the European Executive Director here. I was elected by the Board of Governors to the role in 2016, and that is what I have been doing since.

What are your favorite places in Singapore and where do you feel most at home?
My favourite places are my home and my work place. I like to relax with my family at home after a long week. I also enjoy working with 40 young people from 20 different Asian and European nations – a very diverse and dynamic group. And as you can see my work place where I spend much of my time is very picturesque with green views of nature which is very calm and soothing.

Home is where the family is, but as we have five children in four countries on three continents, home is wherever my wife and I go next. We just pack up our bags and move on together!