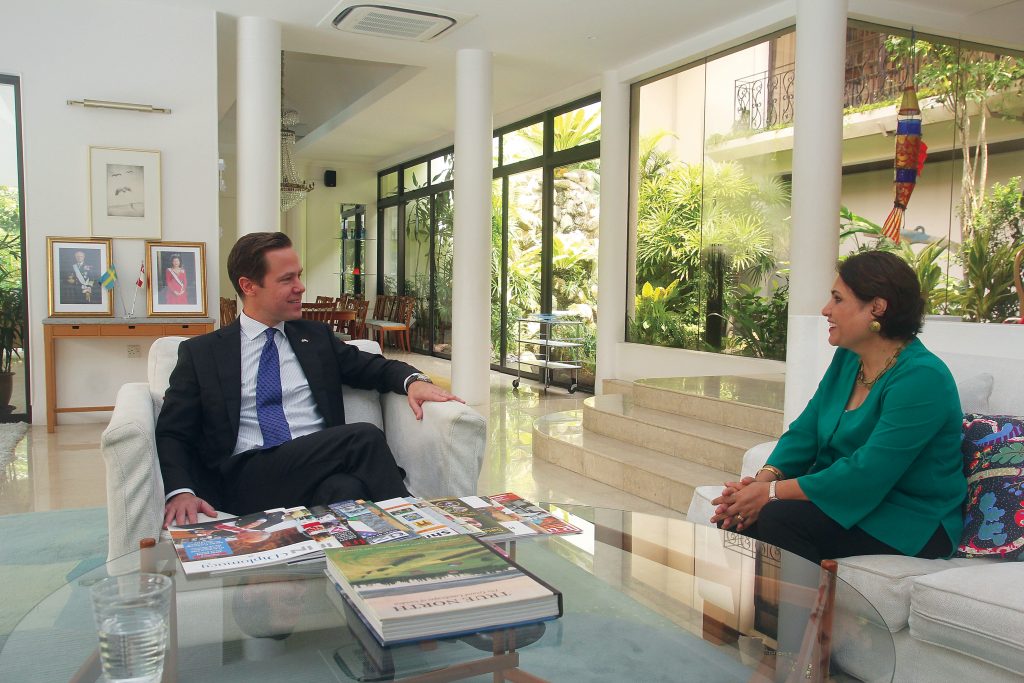 LOOKING back on his career choices as an individual and as a family man H.E. Niclas Kvarnström reflects on the excellent experiences he has garnered for his new assignment in a region he is not only familiar with, but has come to love. As an old Asia hand he is well versed in the rich nuances and niceties required to engage with the land and the people and to bring the very best of his learnings to making this assignment a success on many fronts.
This symbiotic connect with Asia goes back to those early university days when he chose to study Chinese. "It was different and it was a challenge," he shares – a trait which has singularly marked his take on life. Leaving aside a career in finance (Morgan Stanley in Hong Kong, Goldman Sachs in London and New York) suddenly in 2001 he decided to enter the world of diplomacy. In due course he along with his wife got a diplomatic posting in Beijing. The ambassador is of the firm belief that new learnings bring fresh impetus to ones pursuits. Postings abroad were peppered with stints in the home country. "From the point of view of the civil services its good when we return with new experiences which we may not have had otherwise," he shares.
The closeness of Sweden and Singapore over the years is a precious commodity as it is rooted in shared interests and qualities. "If there is one word that summarises the core of our relations it is "Innovation", because both governments focus on and provide the resources for it. What's been a critical factor in this endeavor have been the advanced academic research and development sphere and the partnerships between Singapore and Sweden on this front. Sweden has about four hundred firms based in Singapore of varying sizes who are in pursuit of the twin goals of innovation and sustainability as the environment in the island –state, which is a regional financial hub, is highly conducive to this, he reveals.
Super-Important
Being a small country Sweden's embassy here, he shares, needs to be really focused. There are some things that are super-important that need to be done, but there are three priorities for him for the next couple of years: (i) an innovationcentric Sweden promotion, ie promoting emphasis of Swedish business on innovations; (ii) understanding that Singapore is the place from where one can understand the region; (iii) Research and development (R&D) and education and partnerships in this area. All three, he says need to be rooted in focusing on sustainability, else they would not exist.
A very important part of the engagement with Singapore — and looking forward, according to His Excellency, with the region, are its Business Sweden office (involved in trade and investment promotion), its Chamber of Commerce Innovation an Impetus for Future Growth, the Swedish School and the Swedish Women's Association — all of which are very motivated and active in their areas of interest. Today, he says, the spectrum of engagement is far wider compared to the earlier days of Singapore-Swedish relations . The recently opened Nordic Innovation House is aimed at connecting the ecosystem back home with that of Singapore's start-up ecosystem. It is important to note, he says, that all companies in one way or another (be it ABB or Ericsson, Ikea et la) are coming from clever and inventive thinking. It's a smart idea and one needs to stimulate companies to that end. Sweden intends being a major presence in Singapore's Fintech Festival.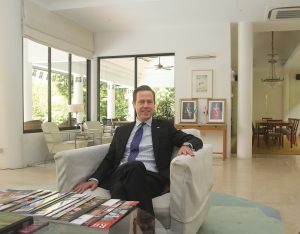 For Sweden, children's education and their place in society are a major priority and this is another common ground with family-oriented Singapore. He points out to the learning experience of Singaporean youths who have spent time in Sweden and learnt of its ways and its culture, and how the embassy in Singapore organized a get together with some Swedish firms and how successful it was. The ambassador, in the four weeks he's been here, also organized a get-together with the National Environmental Agency, a seminar on the topic of circular economy (e-waste etc as major environmental hazards). Plans are afoot for organizing the Nordic Greentech event soon, he says.