Tolaram and Kellogg's looked towards this country of just over one million people for its expansion in Africa. Formely known as Swaziland it has positioned itself as a production hub and able to provide strategic access to the whole continent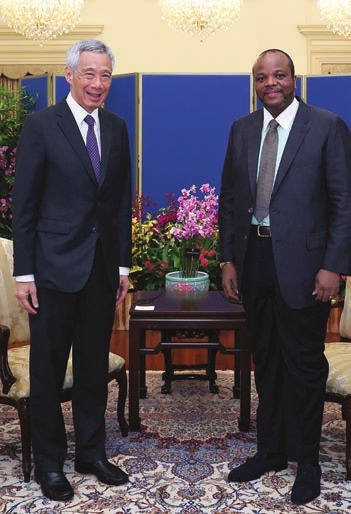 THE King of Eswatini HM Mswati III led a high level delegation of government and business leaders from the African nation to Singapore in June 2022 and met Prime Minister Lee Hsien Loong on 30th June 2022 at the Istana where the Prime Minister said they had a good discussion about the two countries' friendly ties, regional developments, and areas where they can deepen bilateral cooperation. The King last visited Singapore more than six years ago.
One of the highlights of the visit by the 30-strong delegation that consisted of princes, princesses and ministers from Eswatini was the Business Seminar organised by the Singapore Business Federation (SBF) and Enterprise Singapore on 28th June 2022 on the occasion of the visit by King Mswati III.
Potential opportunities for business collaborations between the African nation and Singapore were presented by Senator Mancoba Khumalo, the Minister of Commerce, Industry and Trade as well as the CEO of the Eswatini Investment Promotion Authority, Mr Sibani Mngomezulu. Senator Khumalo highlighted plans to attract more investments into the country and that Eswatini is eager to work with Singapore companies to develop a US$1.2 billion integrated power project
The Keynote Address was presented by the King himself.
From Singapore, the Welcome Address was delivered by Mr Ranveer Chauhan, the Chairman of the SBF African Business Group and Mr Haresh Aswani, Managing Director of the Tolaram Group shared experiences of the investment journey of Tolaram in Eswatini. Tolaram opened a US$34 million noodle factory in Eswatini in 2021 in partnership with US multinational Kellogg's.
Mr Chauhan noted that this was a very "momentus occasion" as this was the first time that such a delegation had visited Singapore.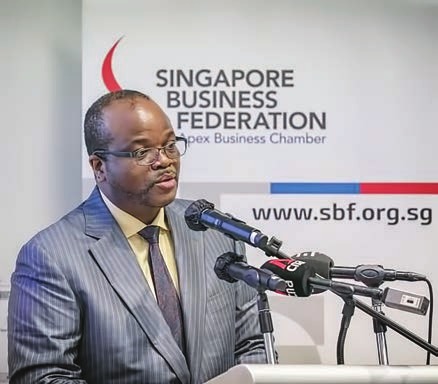 Mr Aswani attributed the successful launch of the noodle manufacturing facility which employs 220 people to the support of the Eswatini government: "The support we received from the government was fantastic. Their frameworks are easy to navigate, and generous incentives are provided to encourage investments into the country."
King Mswati III in his address paid tribute to Singapore's successful development to a First World nation and said the island nation is a model for other emerging economies. He said just like Singapore, Eswatini is a small country that could serve as a lunching pad for the vast oppportunities into Africa especially in light of the African Continental Free Trade Area (AfCFTA). The continent has received a boost in intra-African trade since the start of the AfCFTA in 2021 and the World Bank has estimated that it has the potential to raise the living standards of tens of millions of people out from poverty by 2035. The King said ""The Kingdom of Eswatini continues to position herself as a production hub in the region to take advantage of the ever-widening strategic markets for our goods in the trading bloc we are actively part of."