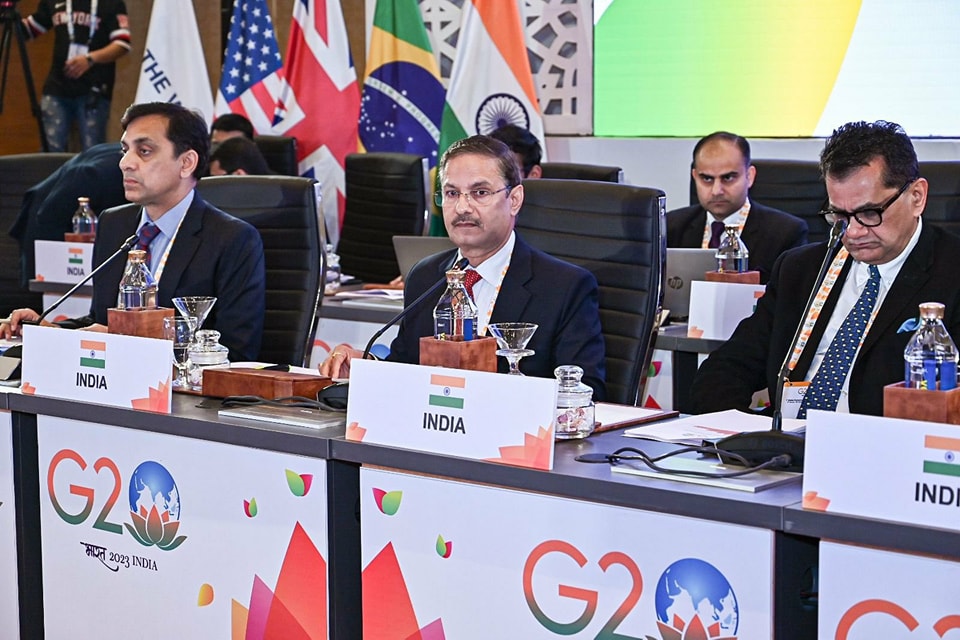 The first G20 Finance Ministers and Central Bank Governors (FMCBG) meeting under the G20 Indian Presidency was held in Bengaluru, Karnataka. The meeting was co-chaired by Union Finance Minister Smt. Nirmala Sitharaman and RBI Governor Dr. Shaktikanta Das
BENGALURU, Karnataka, hosted the first G20 Finance Ministers and Central Bank Governors (FMCBG) meeting as part of the G20 Indian Presidency from February 24–25, 2023. Smt. Nirmala Sitharaman, the Union Finance Minister, and Dr. Shaktikanta Das, the governor of the Reserve Bank of India, jointly presided over this meeting.
The G20 FMCBG meeting was preceded by a meeting of G20 Finance and Central Bank Deputies (FCBD) on February 22, 2023, which was co-chaired by Dr. Michael D. Patra, Deputy Governor of the Reserve Bank of India, and Shri Ajay Seth, Secretary (Economic Affairs).
The G20 FCBD meeting was officially opened by Shri Anurag Thakur, the Union Minister for Information & Broadcasting and Youth Affairs & Sports, Government of India. 
The G20 Indian Presidency hosted the first FMCBG meeting, which was attended by invitee members, leaders of international organizations, and the finance ministers and central bank governors of the G20 members. The meeting was attended by 72 delegations in total.
The G20 Indian Presidency had designed the meeting agenda in such a way that Ministers and Governors could have a meaningful exchange of ideas on pragmatic and meaningful approaches to addressing some of the world's most pressing economic issues. 
The meeting was divided into three sessions on February 24 and 25, with topics such as strengthening multilateral development banks to address common global challenges of the twenty-first century, funding for resilient, inclusive, and sustainable "cities of tomorrow," and leveraging Digital Public Infrastructure (DPI) to promote financial inclusion and productivity gains. Global economic, health, and taxation-related topics were also discussed during the sessions.
The discussions at the G20 FMCBG meeting are intended to provide clear direction for the various G20 Finance Track workstreams in 2023.
In conjunction with these meetings, a number of side events on topics such as Digital Public Infrastructure, Policy Perspectives on Crypto Assets, and the Role of National Payment Systems in Cross Border Payments have been planned for the visiting Ministers, Governors, Deputies, and other delegates.
For the Finance Ministers, Central Bank Governors, and their delegations, specially curated cultural programs and a Ratri Bhoj Par Samvad will also be organized. These events will highlight the varied cuisines and cultures of India.
During a special event called Walk the Talk: Policy in Action, the Ministers and Governors visited the Indian Institute of Science (IIS) to interact with tech entrepreneurs and innovators who are developing cost-effective and scalable solutions to some of the problems faced by G20 member nations.
To welcome ministers, governors, deputies, and delegates, G20 India organized cultural programs showcasing India's rich cultural odyssey throughout Karnataka, a land renowned for its deeply rooted cultural and artistic heritage with diverse forms of arts and crafts. The performance will reflect the artistry and splendor of Karnataka's cultural ethos and legacy.
In order to give the delegates the chance to take in Karnataka's stunning natural scenery, choices of excursions have been made available for them on February 26.
Sourced from G20 India site