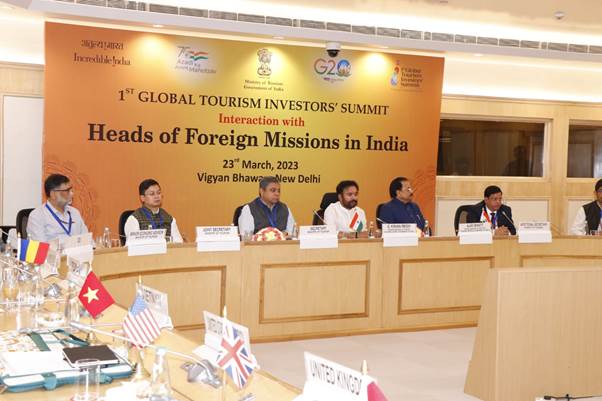 The Global Tourism Investors' Summit (GTIS) 2023 provides a platform for global and domestic players to explore investment opportunities in India's diverse tourism sector with 100% FDI allowed and 25 states sharing 350+ investable projects worth around Rs. 64,000 Cr, and knowledge sessions on sustainability, digitalization, and other topics
THE Global Tourism Investors' Summit (GTIS) 2023, being organised in partnership with Invest India and the Confederation of Indian Industry (CII), aims to provide a common platform for global and domestic players to explore investment opportunities in the Indian travel and hospitality sector.
With 100% FDI allowed under the automatic route, the tourism sector has become one of the fastest-growing economic sectors in India, with a significant impact on trade, job creation, investment, infrastructure development, and social inclusion. The Investor Summit will provide a two-way platform for showcasing the unique offerings of India's diverse portfolio of niche tourism products, while potential investors from foreign countries can identify state-specific investment possibilities.
GTIS 2023 will offer several knowledge sessions focused on topics such as sustainability, digitalization, technology, insights, state-specific issues, and other sub-sectors of tourism. These sessions will facilitate business-to-business (B2B) and business-to-government (B2G) engagements, providing ample opportunities for foreign investors to witness the huge Indian market and leverage available investment opportunities. Moreover, the Summit will serve as an excellent platform for investors to interact with the heads of 42 Foreign Missions who participated in the Roundtable Interaction chaired by the Minister of Tourism, Culture, and DONER, and showcase India's tourism offerings to the world.
The Summit will also have a web-site, www.gtistourism.in, which will help in taking forward public-private engagements beyond the event, providing information on investable projects, state policies, incentives, and concessions. With all G20 countries expected to participate in the event, India's tourism market is set for a growth trajectory, with improved infrastructure, global connectivity, higher disposable incomes, and the development of niche tourism products opening up opportunities for foreign investors. In addition, with states actively working on policies and providing incentives and concessions to attract private investments for Homestays, MICE infrastructure, Wellness tourism, Eco-tourism, etc., the Summit offers ample opportunities for foreign investors to participate in India's growth and development in the tourism sector.
Sourced from Press Information Bureau of India