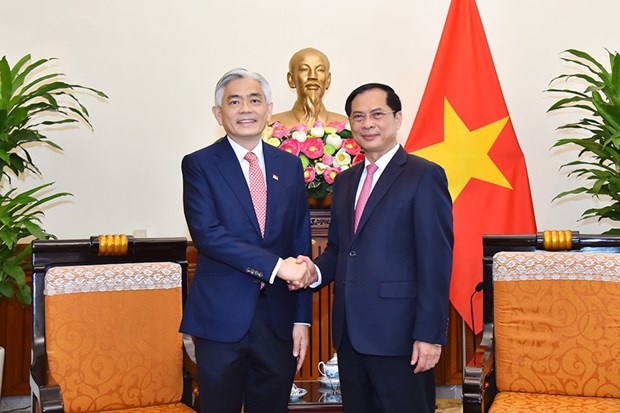 Singapore and Vietnam fortify bilateral cooperation, focusing on green and digital economies, during the 15th Singapore-Vietnam Bilateral Consultations in Hanoi.
In a significant development aimed at strengthening bilateral ties, Singapore's Permanent Secretary for Foreign Affairs Albert Chua concluded his working visit to Hanoi, Vietnam, after co-chairing the 15th Singapore-Vietnam Bilateral Consultations (SVBC) with Deputy Foreign Minister Do Hung Viet of the Socialist Republic of Vietnam on May 18.
During the consultations, Permanent Secretary Chua and Deputy Foreign Minister Viet reaffirmed the excellent relations between Singapore and Vietnam, highlighting the deep and multi-faceted cooperation across various sectors. Both sides took the opportunity to review the substantial progress made in trade, investment, and finance between Singapore and Vietnam. In addition, they expressed their commitment to further enhance collaboration in emerging areas of mutual interest, such as the green and digital economies, renewable energy, carbon credits, and cybersecurity. These efforts are in line with the Memorandum of Understanding (MOU) on the Green-Digital Economic Partnership signed during Prime Minister Pham Minh Chinh's Official Visit to Singapore in February 2023.
The consultations were also an occasion to commemorate two important milestones in the bilateral relationship between Singapore and Vietnam. This year marks the 50th anniversary of diplomatic relations between the two countries, and it also signifies the 10th anniversary of their Strategic Partnership. Both sides welcomed the frequent bilateral exchanges taking place this year to celebrate these significant occasions. Furthermore, they shared the news that the Singapore Business Federation is planning to hold its flagship event, the 7th Singapore Regional Business Forum, outside Singapore for the first time in Hanoi later this year. This move further underscores the growing economic cooperation between the two nations.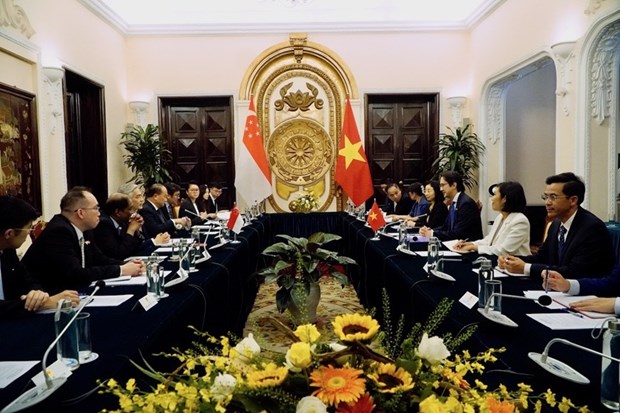 Permanent Secretary Chua and Deputy Foreign Minister Viet also engaged in discussions on key regional and international developments. They emphasized the importance of ASEAN Centrality and unity, aiming to strengthen an open and inclusive regional architecture, while deepening regional economic integration.
In addition to the bilateral consultations, Permanent Secretary Chua held meetings with several high-ranking Vietnamese officials. He met with Foreign Minister Bui Thanh Son, Deputy Foreign Minister Nguyen Minh Vu, and Chairman of the Commission of External Relations of the Communist Party of Vietnam, Le Hoai Trung. The discussions focused on regional and international issues of common concern, as well as exploring ways to further deepen bilateral cooperation.
Prior to the consultations and meetings, Permanent Secretary Chua participated in the Senior Officials' Meeting on the Implementation of the Declaration on the Conduct of Parties in the South China Sea (SOM-DOC) from May 16 to May 17, 2023. This participation demonstrated Singapore's commitment to maintaining peace and stability in the region.