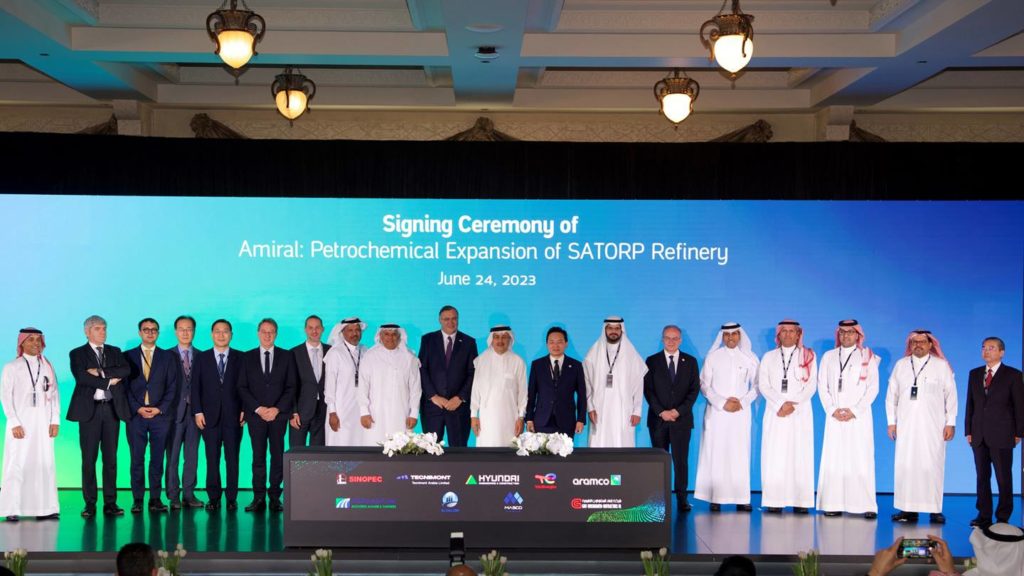 Aramco and TotalEnergies award $11 billion petrochemical complex contract, marking a major milestone in their longstanding partnership and boosting Saudi Arabia's downstream sector.
Aramco and TotalEnergies took a significant step forward on June 24th as they awarded Engineering, Procurement, and Construction (EPC) contracts for the ambitious $11 billion "Amiral" complex, a world-scale petrochemicals facility expansion planned at the SATORP refinery in the Kingdom of Saudi Arabia. The signing ceremony held in Dhahran was attended by top executives, including Aramco President and CEO Amin H. Nasser, and TotalEnergies Chairman and CEO Patrick Pouyanne.
The award of the EPC contracts for the main process units and associated utilities signifies the commencement of construction work for the joint petrochemical expansion, following the final investment decision made in December 2022. The new complex, integrated with the existing SATORP refinery in Jubail, is expected to host one of the largest mixed-load steam crackers in the Gulf, with an impressive capacity to produce 1,650 kilotons per annum of ethylene and other industrial gases.
This significant expansion project aims to attract over $4 billion in additional investments across various industrial sectors, including carbon fibers, lubes, drilling fluids, detergents, food additives, automotive parts, and tires. Furthermore, it is set to create around 7,000 local direct and indirect job opportunities, providing a boost to the local economy.
Aramco's President and CEO, Amin H. Nasser, expressed his excitement about the collaboration, stating, "Today we are taking a major step forward in further strengthening the partnership between TotalEnergies and Aramco, with the SATORP expansion project being the latest in a longstanding history of collaboration of almost five decades between both companies." He also highlighted that the project aligns with Aramco's growth strategy and will contribute to value-addition opportunities in the Kingdom's downstream ecosystem.
TotalEnergies' Chairman and CEO, Patrick Pouyanne, also shared his enthusiasm, saying, "This landmark opens a new page in our shared history with Aramco, which we are delighted to be associated with once again. This expansion project reinforces the exemplary relationship that our two companies have enjoyed for several decades in the Kingdom of Saudi Arabia."
The signing ceremony witnessed the presence of important dignitaries, including the Minister of Land, Infrastructure, and Transport of South Korea, Won Hee-ryong, along with government officials from Saudi Arabia, France, and South Korea, and company executives from Aramco, TotalEnergies, and EPC firms.
The "Amiral" complex's development represents a significant milestone for both Aramco and TotalEnergies, highlighting their continued commitment to the Kingdom of Saudi Arabia and their intent to further boost the nation's petrochemical sector while creating substantial economic growth and employment opportunities. As the project progresses, the eyes of the industry and the global market will undoubtedly be focused on this ambitious joint venture.