The 17th Pravasi Bharatiya Divas convention attracted 3,500 diaspora members from almost 70 countries. Prime Minister Narendra Modi said they are national ambassadors who can upheld India's heritage and spoke on the convention's theme: Diaspora: Reliable partners for India's progress in Amrit Kaal*.'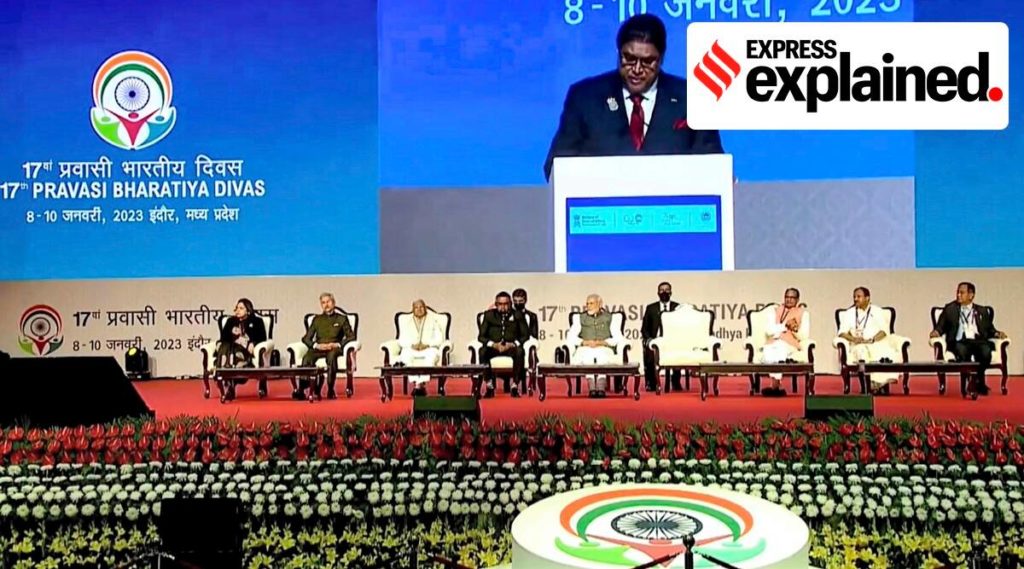 THE 3-day PBD Convention took place at Indore, Madhya Pradesh from 8th to 9th January 2023. Apart from Prime Minister Modi, the event was also graced by Dr. Mohd. Irfan Ali, President of Guyana, who was the chief guest, while the President of Suriname, Chandrikaprasad Santokhi, was the special guest. Other dignitaries at the Convention included Madhya Pradesh Chief Minister Shivraj Singh Chauhan, Governor of Madhya Pradesh, Shri Mangubhai Patel, Union Minister of External Affairs, Dr S Jaishankar, and several cabinet members.
PM Narendra Modi set off a rousing note in his inaugural address, while putting the spotlight on the significant role of Pravasi Bhartiyas in the next 25 years of the journey of Amrit Kaal*. "India's unique global vision and its role in the global order will be strengthened by Pravasi Bharatiyas during the Amrit Kaal," shared PM Modi. The Prime Minister pointed out that Pravasi Bhartiyas are the Rashtradoots (national ambassadors) of India's heritage, of "Make in India," of yoga and ayurveda, of India's cottage industries, and of India's handicrafts. The Prime Minister also reiterated that each and every Bharatvanshi carries all of India with them. "In the last eight years, India has tried to strengthen its diaspora." He continued, "It is India's commitment today that wherever you are the country is for your interests and expectations."
The Prime Minister prevailed upon the diaspora to stay informed about India's advancements as well as cultural and spiritual facts so they may promote India to the rest of the world on Pravasi Bharatiya Divas.
On the occasion the Prime Minster also released a commemorative postal stamp 'Surakshit Jaayen, Prashikshit Jaayen' and inaugurated the first-ever digital PBD Exhibition on the theme 'Azadi Ka Amrit Mahotsav – Contribution of Diaspora in Indian Freedom Struggle'
Singapore Banker Receives Award
The Pravasi Bharatiya Samman was awarded during the valedictory session, presided over by the President of India Droupadi Murmu. It is the highest Indian award for Non-resident Indian and Overseas Citizen of India (it can also be an organisation or institution established and run by Non-Resident Indians or Persons of Indian Origin), to honour exceptional and meritorious contribution in their chosen field/profession. This year Singapore banker, Mr Piyush Gupta, the CEO of DBS bank was one of the receipients of the award.
The PBD conference was signposted by five plenary sessions:.
– 'Role of Diaspora Youth in Innovations and new Technologies', Chaired by Minister of Youth Affairs & Sports, Anurag Singh Thakur. – 'Role of Indian Diaspora in promoting Indian Healthcare Eco-system in Amrit Kaal: Vision @2047'. Chaired by Dr. Mansukh Mandaviya,  Minister of Health & Family Welfare.
– 'Leveraging the soft power of India – Goodwill through craft, cuisine & creativity'. Chaired by Minister of State for External Affairs, Meenakshi Lekhi.
– 'Enabling Global mobility of Indian Workforce-Role of Indian Diaspora'. Chaired by Union Minister Dharmendra Pradhan.
– 'Harnessing the Potential of Women Diaspora Entrepreneurs.' Convened by Union Finance Minister Nirmala Sitharaman
The PBD Convention, a flagship event of the Government of India, is an important platform to engage and connect with overseas Indians and enable the diaspora to interact with each other. It has been celebrated on January 9 since 2003 to recognise the contributions of the Indian people living abroad to the growth of India. The day also honours Mahatma Gandhi's arrival in Mumbai on January 9, 1915, after travelling to South Africa.
* Amrit Kaal refers to the next 25 years of Independent India that will take it towards year 100 of freedom.